Download IANL Khutbahs to your devices
Weren't able to make Jummah? Want to listen to the Khutbah again? You can now listen to IANL Khutbahs on your Mobile devices.
Subscribe to our Podcast and download them automatically as they are uploaded. 
What is a Podcast?
Podcasts are audio recordings from a show or presenter. They are made available on a feed.
You can subscribe to that feed using an App (see list below) and then when a new recording is made it will automatically be available in the app.
It allows you get the recordings conveniently when they are made and so you can listen to them at your convenience (on your commute, driving, walking etc).
Download a Podcast App
You can subscribe to our podcast on iOS and Android using various apps. Some popular and good ones are below.
Subscribe to the IANL Podcast
Once you have downloaded a Podcast app you can then subscribe to our podcast. See below how to do it for your particular app.
In the search box enter "IANL"
Click on the IANL logo in the search results
Click on Subscribe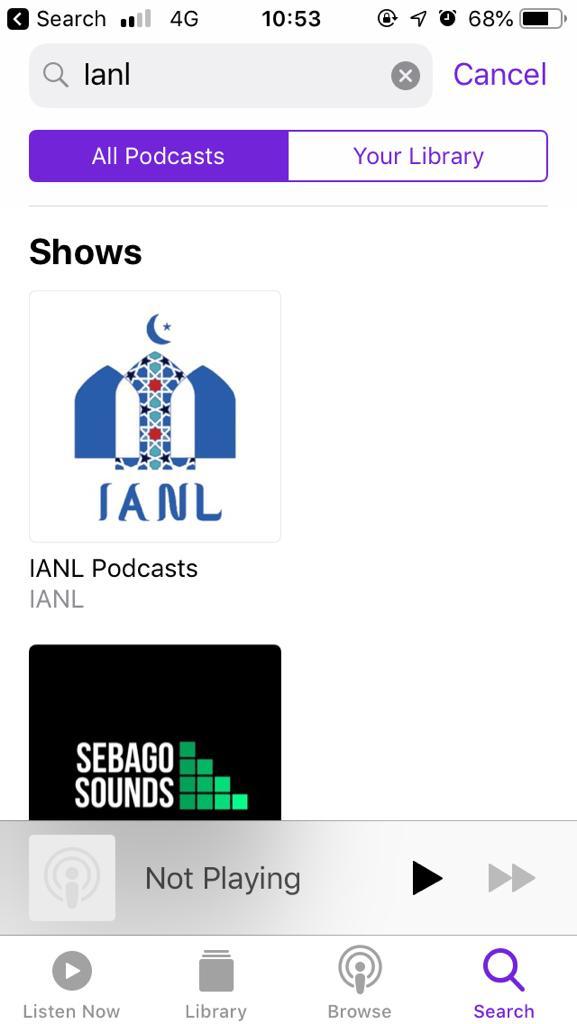 Click on "Search"
Enter "IANL" in search box
Click on IANL Podcast in the search results.
Click on "Follow"
Click on the Search icon
Enter "IANL"
Click on the IANL Podcast in the search results
Click on IANL Icon in the search results
Click on Subscribe